When people ask me why I'm so dedicated to elder care, my thoughts drift back in time to my grandmother. 
I grew up in Shanghai, China during the early 70s in a multi-story apartment. Our home was always brimming with family activity. On the ground floor was the common kitchen where everyone gathered, and where two of my elder siblings and I would sneak a snack. My uncle's family, including their 4 children, lived on the second floor, just below my family on the third.
At the top level, above all of us, lived Grandma.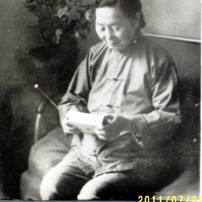 She had lived up there for as long as I could remember. She and Grandpa had moved into the apartment from rural Shanghai. Neither had ever attended school, but were both hard workers and dedicated to family. Grandpa started working as a barge labourer in the 1920s, moving goods from the steamships parked outside of Shanghai into the city through Huangpu River.
Business was thriving because lots of goods were coming from overseas, so after working for many years, Grandpa saved enough money to buy his own barge so he could start working for himself. Later, he started hiring people to help, gradually growing his business into a small fleet. Their success gave them the opportunity to move into the city, where they found our family home inside the Shanghai International Settlement. It was perfect as it offered a safe place for their family, especially during World War II, and the chance for their children to go to school.
I was still a baby when Grandpa passed away. Grandma had to give up his fleet business to the state government prior to the Cultural Revolution, and began to talk about moving back to the country. My dad, who was her eldest child, told her, "You looked after all of us, so now it's our turn to look after you."
He installed a kitchen on the 4th floor, so she did not have to come down to cook very often. However, she always had time to help raise all of the grandchildren, including me, who was the youngest in the family.
I spent a lot of time in Grandma's room. I enjoyed eating her food, hanging out with her friends when they visited, and asking her lots of questions. She would tell me stories about growing up in rural Shanghai, how hard my grandfather worked on a small barge in the 20s, and how my birth was the biggest joy in his later years. Even as he battled lung cancer, he insisted on holding me in his arms, bringing a warm smile to his face in his final days.
Grandma's room was also a safe place when I was in trouble. I still remember running as fast as possible from my mom, bounding up the stairs, dodging my siblings as they tried to catch me. No one dared to follow me up there!
So many wonderful memories. When I was little, she would carry me on her back to school and home again when classes were finished. As I grew older, she would watch for me at her window and wave as I left for and returned from school. No day was complete without knowing she was watching over me, somehow protecting me from the world's evils from the sanctity of her room.
Even after I became a teenager, I still loved staying in her room to study, read, and just hang out. She would tell me stories about what was happening on our street – she saw it all from the fourth floor! I liked to make jokes and funny faces to make her laugh. Her laughter was one of my favourite sounds, and many years later it still is.
Grandma didn't laugh much when I told her I wasn't qualified to apply for university, even when I tried to make a joke about it. She just nodded her head and carried on doing whatever she was doing with stoic resolution. I don't know if she was disappointed, but looking back, perhaps neither of us realized that it just wasn't my time to leave for school yet. It might actually have been a blessing in disguise.
With so much free time on my hands, I started hanging out with friends more, but also made sure to help Grandma with little things, take care of her errands, and show her all the dedication she had shown our entire family. We had a special bond, one that transcended simple blood ties to forge a deep mutual connection.
Then that cold winter night came that I'll never forget. I woke up hearing an unusual sound coming from the fourth floor. My parents weren't in their room, so I crept up the stairs as a foul smell slowly filled the air. I peeked my head into Grandma's room and saw my parents struggling to pick Grandma up from the chamber pot next to her bed. I didn't know what to think, and was too scared to know what to do.
Grandma was put in the hospital, the only time I can ever remember her being there. Our family took turns watching over her. She slept most of the time as I sat by her bedside, leaving me time to watch the IV drip into her arm as I held her hand. I just wanted to see her smile again, hear her laugh one more time.
Then one day, her eyes fluttered and I held my breath as she slowly woke up. I was so thrilled but knew I shouldn't get her too excited, so we made light conversation until the temptation was too overwhelming – I made her favourite funny faces, and was thrilled to hear her laugh! I didn't want to leave when my dad came to relieve me. I wanted to enjoy every precious second I could with Grandma until she could come home again, but reluctantly bade her goodbye, looking forward to seeing her the next day.
A couple of hours later, I got a call from Dad saying Grandma had peacefully passed away.
I wasn't sure how to accept that Grandma would no longer be upstairs. It might be why I didn't go back to the fourth floor for months – maybe the reality of her not being there would be too much to handle.
After a while, everyone seemed to go back to their normal lives. I thought about Grandma a lot when I was alone, especially at night. A few months later, I decided to go back to school and was accepted into university the following year. I knew she would be very proud of me had she known, and in some way, I could feel her smiling.
I've always been inspired by my grandparents' story, so much so that when my wife and I decided to move to Canada in 2000, it reminded me of why they moved to Shanghai: for a better life and to provide our son with a quality education.
After spending 8 years as a Business Manager for Procter & Gamble Canada, I took the opportunity to make a career change and pursued training in senior care at a nursing home. I noticed the stark difference between seniors who were in nursing homes under institutional care and my grandma's home care. What still astonishes me is that society at large saw nursing homes as the obvious solution for senior care, when the seniors I worked with expressed a heartfelt desire to live at home.
I remember how grateful Grandma was to be able to live at home during her vintage years, and decided to create a business that makes aging a little bit easier. I envisioned an organization that could enable seniors to stay in their own home for as long as they want, not only protecting their dignity, but also giving them joy. Much of that joy is rooted is living independently, supported by people who truly care and share in the things that they love doing.
That's why our mission at Carehop is to show that aging can be a beautiful thing for your elderly loved ones by bringing happiness and sunshine into their lives every day. It's also why I've dedicated my life to elder care – thanks to the memories I'll always treasure of Grandma.